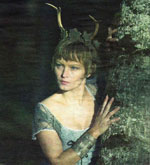 by Barbara Rowland
Georgia Straight, January 2012
When you're looking at Kristen Jones' rustically beautiful Queen Bijoux jewels, pinpointing her retro inspirations can be challenging. There's no denying her handmade luxury pieces have an antique vibe to them, but is it Edwardian? Art deco? Goth? They keep you guessing, and, according to the Vancouver goldsmith, that's no accident.
"I don't want to do a copy of something," says Jones, who sat down with the Straight at Aurum-Argentum Goldsmither (1351 Railspur Alley, Granville Island), the studio storefront space she shares with fellow jewellers Perrnilla Ahrnstedt and Gisela M. Kuckertz. "I'm very heavily influenced by jewellery from the past, but not just one in particular. That's why, with a lot of my stuff, you can't really tell which style it is, because I've taken elements from different time periods."
In addition, she creates these one-of-a-kind gems, which she sells exclusively at her studio, for people who appreciate historical nods but expect contemporary finishing.
"I design for the modern clientele," she says. "I know when I've gone to look at medieval jewellery at the British Museum, it's really crude. LIke, it's gorgeous to look at—like the way they've set the beautiful cabochons and the colour combination of the amethysts and the sapphires and stuff like that. But there's no way a modern clientele would want to wear it."
Her stackable gold bands (which start at $950) are a great example of that finely crafted, old-world look Jones has mastered. With each of these rings, she melts the precious metal, alloys it, rolls it out, then forms it with a hammer, file, and saw. The result is a highly textured character ring that's immaculately finished with a smooth inner band.
Another signature design is a collectible antique-coin pendant set in handcrafted circular frames (prices vary). Here, she is careful not to betray the authenticity of the coin by making an overly slick frame.
"I'm proud of the fact that I can make these things by hand, so I like that to show in my work," says Jones, who spent 16 years as a bench goldsmith before striking out on her own in 2005. "So instead of being completely perfect—because a machine can make something that's perfect—I want my jewellery to look like a human hand made it. That's really important."
But her truly show-stopping pieces have to be her statement rings, like the Seaweed ring ($6,030), a 26.1 karat aquamarine cabochon that she put in an intricate 19-karat white-gold setting with delicate pavé-diamond detailing on the side. Gorgeous! As are her funky diamond tablet earring ($2,000 to $3,000), with their old-world look.
Some of Jones' artier standouts include the sterling-silver Forest Nymph Cuffs ($500 each), which she hammers out from a flat sheet, then solders on hand-carved, gold-infused ivy leaves. After that, she weaves a thick, black-suede, lace-corset fastener through it. She also made a matching Forest Nymph headdress with shed deer antlers ($5,000). They don't exactly fly off the shelves. Her bread-and-butter pieces right now are her custom-made wedding and engagement rights. But that doesn't mean that antler headdress doesn't serve a purpose.
"What I find is we have to have a lot of really artistic pieces in the studio because our clients com here and they want to know they bought their wedding jewellery from an artist," Jones says, picking up her headdress. "I mean, I'll probably be buried with this."