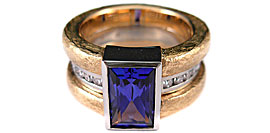 As a professional goldsmith, Kristen Jones works exclusively in gold, silver and platinum. In combination, and by incorporating alloys and oxides, the range of colours, textures and patinas for her original jewellery designs are almost unlimited. She creates Canadian diamond jewellery designs, designer wedding and engagement rings and original necklaces, earrings, bracelets and pendants. Kristen's work frequently incorporates rose cut diamonds — an ancient style of cutting diamonds that originated in the 16th century. Kristen can also recycle your old gold jewellery into new creations.
Kristen often incorporates gemstones and rare precious coins into her jewellery. Due to the unique nature of the gemstones and rarity of the ancient coins many pieces are completely unique, one-of-a-kind creations. You can review the jewellery in these galleries or visit Kristen's jewellery store and studio on Granville Island in Vancouver to order a similar custom piece in your size and choice of available gems or coins.
Kristen obtains her gemstones from Lisa Elser, a Swiss-trained gemcutter whose work is in the permanent collection of the Smithsonian Museum.
Kristen also creates commissioned pieces. Please contact her to discuss possibilities and to obtain a quote.